FETAC LEVEL 6 AWARD: ***AIR BLOWN FIBRE OPTIC CABLE NETWORK INSTALLATION & MAINTENANCE TECHNICIAN: as awarded by QQI
Background Information:


Internet broadband access, voice over IP Telephony and video on demand services are currently provided by existing communication networks using copper wire and coax for the final connection to the customer.

Those using copper use techniques such as ADSL and VDSL which has allowed telephone network operators, to claim bandwidth offerings that they never quite achieve.

Existing Fibre To The Home (FTTH) networks in Holland and other European countries are delivering a bandwidth to the end user that is hundreds of times greater than what is available using today's copper based systems.

The preferred way of delivering this optic fibre based technology to the home or small business user. Is the "Air Blown Fibre" method.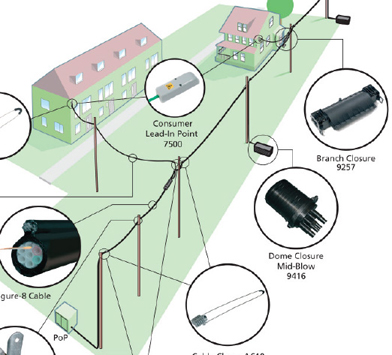 This course is ideal for former contractors who are, familier with outside working. Also for those who are wanting to update their existing skills to maintain their employability by adding another string to their bow, or those wishing to explore opportunities they see evolving

As systems are integrated with fibre networks. The need to be able to present fibre optic cable in difficult installation situations is going to be essential. Using an air blown fibre solution will be the solution of choice.

Our training programme covers the equipment and the installation activities around blowing large multiple fibres too and from cities. The programme also covers what is required to install the optic fibre cables typically required around metropolitan areas (towns and cities). Finally the programme deals with fibre to the home or business based blown fibre intallation activities.

WORK OPPORTUNITIES
We have continually said that engineers will continue to be required with fibre splicing and blowing skills as countries around the world start or expand their deployment of Fibre to the home/cabinet/curb/business solutions. Our training provides the skills and qualification. That is very much required on two projects that are looking to employ new peopole.
one here in Ireland and a second one in the West Indies.

If you are interested in going to the West indies, Bahamas, Cayman Islands etc to work. They are looking very much to employ individuals with the skills taught on this course. Two Companies in Ireland are working on this project nad looking for employees to take over. Once trained We will guide you to contact them if you are looking to work there.

This course will be focused on this particular job, Using the exact components, cable and splitters etc. for those completing this training with us aiming to gain work with these contractors.

This course also provides the skills which are going to be very much required, for the recently announced ESB/Vodafone fibre project here in Ireland. Bringing fibre optic connections to businesses and homes all around the country. If you are looking to work in this area, this is the course for you.

No other course or training provider can equip you with the skills you need to work on these projects. Ensuring that you can do the job and are employable, not a head stuffed with theory and are useless.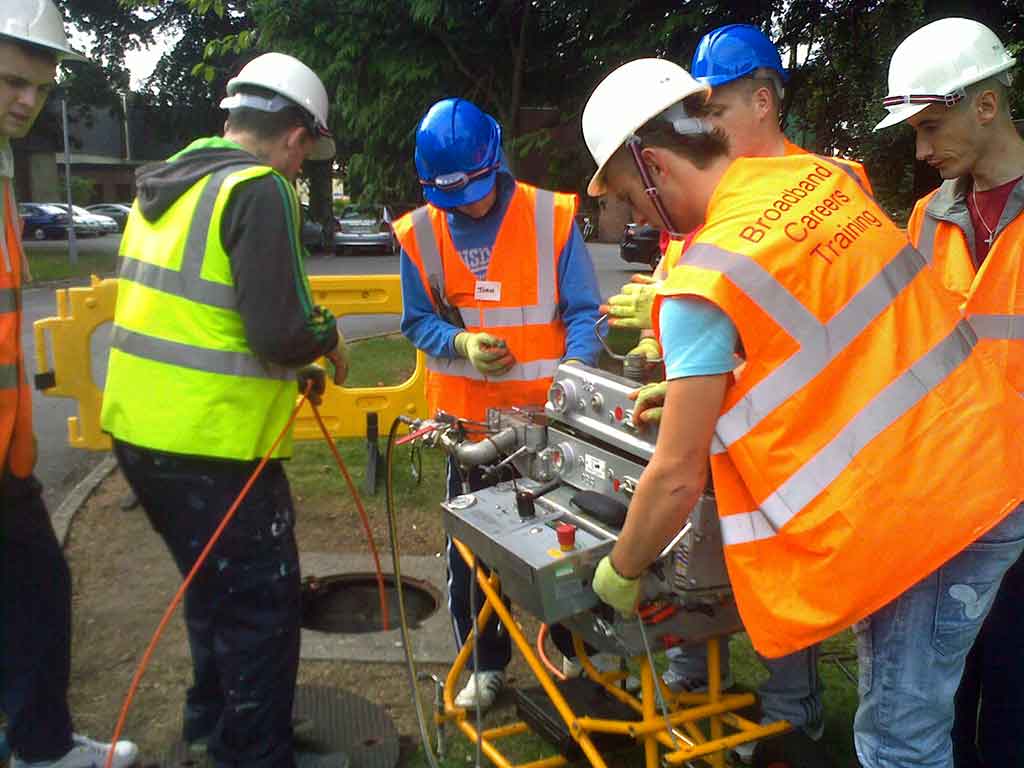 Duration:
We are flexible with this training programme, learners can choose to study this at their own pace, with a mixture of home study, class room presentations, demonstrations and video. All learners are required to complete practical assesment acitivities with us of at least 4/5 days. So all learners must attend our facility at some stage. But essentially you can complete this training in as long or short as a time you need to.

Learning Elements:

The theory study material is often provided so that you can start learning prior to attendance at our training facility at any time. We then book the learners into our centre to complete the classroom practical activities and assessments at a time on our schedule that suits the learner. The option you decide to take is entirely up to you.

Though it should be noted training material will not be dispatched to anyone unless all fees have been paid in advance..

Practical Activities allow learners the time use the heavy , mid range and Fibre to the home type blowing equipments. Given the learners the ability to be able to blow fibre optic cables anywhere they would be required to on any communication network.

Class room instruction. ties together the theory learning about the most common air blown cable systems and equipments, that are used on different elements of a communication network. Such as CBS TORNADO, PLUMETTAZ, Emtelle, SIROCCO, How to blow fibres with counts for example of 24, 96, 144, 200, 500, 800+ and so on.

Fibre to home air blown fibre installation methods such as:- the AERIAL Drop, Direct buried drop, DUG drop, WALL drop, MDU drop, fibre unit Installation methods. Different tube bundling, gas sealing, etc.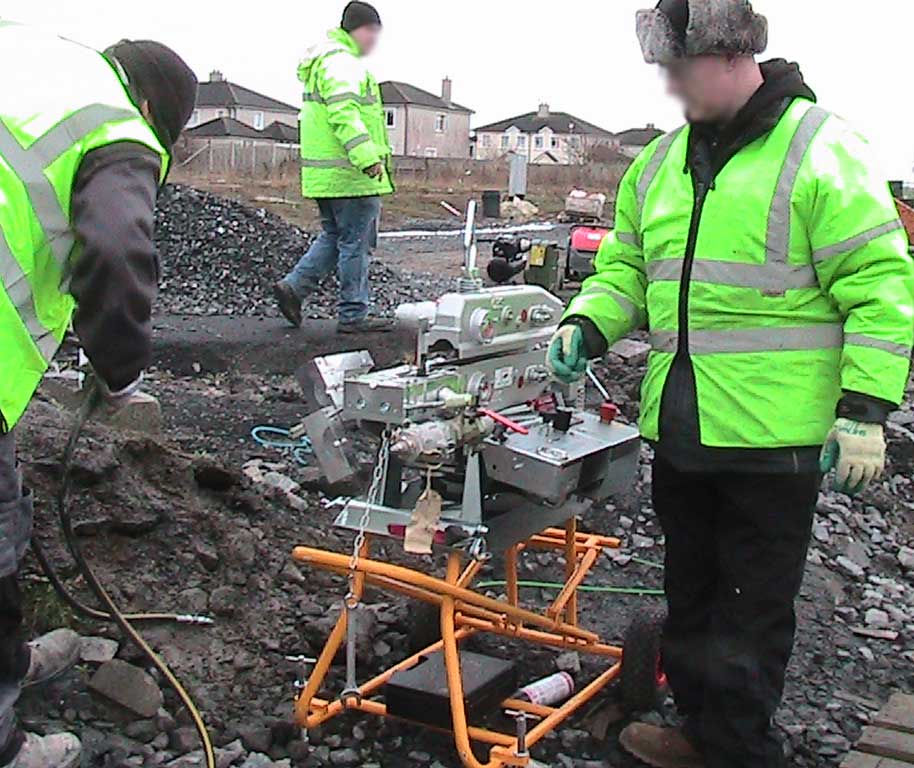 Complete practical tasks such as using blowing equipment to blow 96 and 144 fibres into ducts for several hundred metre's and blowing fibre unit to the home. The use of diffrent blowing methods, centre, onward etc. working with closures, Stripping, using different tools, how to join waterproof and seal tubing.

Location:
Elements of this course are studied by you at home with no pressure at your home time with our support. When you complete This, we will schedule you in to complete the remainder of classroom activity at our centre in Carlow.

To complete the Practical Activities all learners MUST attend our centre in CARLOW. However we will shortly have a training location in Belfast Northern Ireland too. We are the only training provider on the Island of Ireland with the equipment and the facilities to provide proper practical training on these equipments. We have Duct infrastructure where learners can practice the use of these equipments.

Directions and maps are provided with course joining instructions. We do collect course attendees from the train and bus stations.
Certification:
This Course has been constructed with all the required material and equipment available, so that you can practice tasks such as jointing of tube bundle, and the actual blowing of fibre. Gaining real hands on experience is a massive benefit to you. After completing and passing the course assessments you will gain a

FETAC LEVEL 6 Certificate. Awarded by QQI an industry qualification that is Recognised "Across the world"

All training provided is that which the system manufacturers have stated is required, and communication companies have indicated is a minimum that is expected of anyone working on their network

FUNDING
Learners in Ireland who are unemployed and seeking work, may be able to obtain funding support from two sources. The FAS Technical Employment Support Grant (TESG).
Or
Assistance might be available from the Department of Social and Family Affairs through the Technical Assistance and Training Fund (TAT). Please contact your Local Emplooyment services or Department of Social Protection office office for more information

BUSINESSES We are able to provide discounts when companies are booking more than one employee and help you gain a further huge discounts through supporting bodies that are in place to aid you sustain your business.

Interested in attending this programme? We can see that someone that is unemployed would see this skill as a means of gaining employment. If that is the main focus of interest to complete this training, we strongly suggest that you do your homework.

Find out which contractors are to work on the projects we have mentioned. Seek out work placements with them to gain experience once you have completed this course. Gaining that experience would be invaluable, especially for those intending to explore the opportunties abroad.

We are currently collecting the details from people who are interested in attending this course. Please Complete the form below with the details requested and we will contact you shortly.